Blog Detail
GoGreen Cover
GoGreen Back Cover are made of 100% biodegradable and natural materials. Pure natural colors underline the ecological aspect of this product series. The main ingredient PBAT is biodegradable and decomposes without toxic residues. The secondary component calcium carbonate is found in large quantities in rocks worldwide and is virtually insoluble in water. Available for Apple iPhone 11/12 series and iPhone SE
100% compostable
Precisely manufactured
Full access to all connections and functions, controls and ports remain fully accessible
Protects against bumps and scratches
Supports wireless charging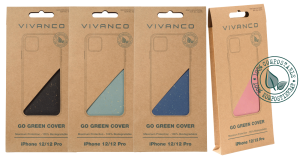 07.06.2021
Blog Detail
ECO friendly packaging
The new Vivanco cardboard packaging avoids plastic waste, is environmentally friendly and sustainable.
Products with the seals shown below are in very recyclable packaging that can be easily separated from the consumer in the recycling cycle, sorted by machine and recycled. The certification and awarding of the official "Made for Recycling" seal is carried out on behalf of the environmental and recycling service provider Interseroh, according to the criteria standardized by bifa Umweltinstitut GmbH and confirmed by the Fraunhofer Institute for Process Engineering and Packaging IVV, as neutral independent authorities.

17.12.2020
Blog Detail
Bluetooth® True Wireless Stereo Earphones
Many hours of stereo music enjoyment completely detached, without cables. Vivanco True Wireless headsets have an ergonomic fit and are ultra-light. Whether on the go or during a workout, TWS headsets offer the perfect combination of sports, music and communication!
Operation of many functions directly on the handset, the phone can remain stowed away
Many hours of play time with one charge of the handsets
Additional power from the transport case with integrated battery
19.10.2020
Blog Detail
Ultra HD High Speed HDMI® Cable
Ultra HD High Speed HDMI® Cable – 8K/60Hz highest quality, razor-sharp images, fast and explosive for the gaming experience on next gen consoles PlayStation 5 and Xbox Series X Vivanco Premium Ultra HD High Speed HDMI® Cables support the new HDMI 2.1 standard and are suitable for playback of 8K media.
20.07.2020
Blog Detail
Vivanco smartphone accessories
Bags and protection: Screen protectors, back covers, book cases
Charging technology: Micro USB, USB Type-C, MFI Lightning, QI / wireless charging, PD Power Delivery, Qualcomm 3.0, Powerbanks
Car holder: For the ventilation grille, for the windscreen, for the cup holder or incl. QI / wireless charging
03.07.2020
Blog Detail
home office
Everything to make the successful home office easier. If you suddenly have to work from home, you need the right accessories to be able to continue to be productive. In addition to mice, keyboards, wlan dongle and headsets, we have everything for cleaning the screen, keyboard and mouse.
02.06.2020
Blog Detail
Universal bike holder for smartphones up to 6,5"
To listen to your favourite music or as a navigation aid, the Vivanco Smartphone cradle is the ideal companion. Thanks to the super easy and quick installation on the bicycle handlebar, scooter, pram or shopping trolley, the bike holder reliably ensures a secure hold.
13.05.2020
Blog Detail
TV wall mount agent
Vivanco and Titan wall brackets offer solutions for every requirement. Here you can find the right model quickly and reliably. Optionally with the wall mount agent by selecting the TV model or via the filter properties with information on hole size, screen size etc..
01.05.2020
Blog Detail
easylink
Easylink remote control can be configured and updated quickly and easily in a few minutes via PC. The necessary software is available for download here and is constantly updated
Extremely flat design.
Replaces up to 12 original remote controls
Automatic code search
Replaces lost or defective remote controls
Easy operation and quick adjustment
Software Downlaod 4in1 UR 40 USB
Software Download 2in1 UR 20 USB
05.02.2020